The NZMATES Programme has been operating for more than two years, delivering services to support PLN, EBTKE, and Dinas ESDM at all stages of the renewable energy project cycle. This ranges from resource assessments and feasibility studies, to engineering, implementation, operation and maintenance, and sustainability support. Examples of the types of support NZMATES is providing to renewable energy projects are shown in the figure below, and more detail can be found on our Project Pipeline page.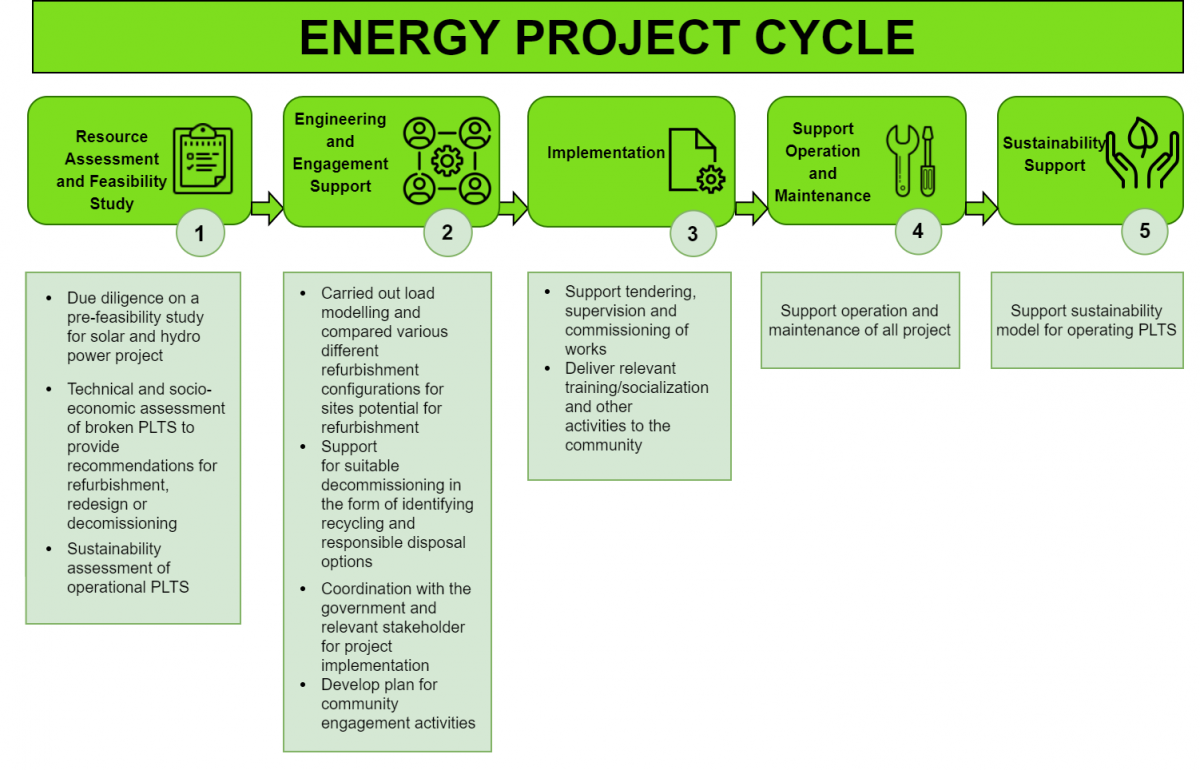 Training and Mentoring
NZMATES has also provided training on solar power plants to strengthen the capacity of stakeholders such as PLN, Dinas ESDM, Universitas Pattimura and Politeknik Negeri Ambon. The trainings have been delivered by NZMATES technical team and expert engineers from Infratec New Zealand.
 

NZMATES continues to work with partners to identify training needs and priorities and help build the local capacity needed to develop a vibrant renewable energy sector in Maluku. For more information, see our Capacity Building page.
Training on solar mini-grid sustainability for PLN and Dinas ESDM.

 

Introductory solar energy training for students at Ambon State Polytechnic.

 
Tools and Guidelines
NZMATES has developed tools to support our fieldwork to gather detail technical data as well as information on community's characteristics, which will inform the team to provide quality recommendations to our partners.
Tool / Guideline
Objective
Technical and Socio-economic Assessment Tool

Collecting data on technical components' performance at RE power plant
Collecting data on community's social, economic and cultural aspects, including public services available

Sustainability checklist

Assess technical, operational, institutional, economic, social and safety aspects of an RE power plant to understand its sustainability

Collaboration and Support for RE Stakeholders 
NZMATES also works to encourage collaboration between renewable energy actors, attract new players to the Maluku renewable energy sector, and strengthen the enabling environment for renewables to thrive. Work undertaken so far in this area include: 
•    Contributed to the development of the draft 5-year strategic plan for the agency (Renstra) Dinas ESDM
•    Support Dinas ESDM for the development of the long-term strategic energy plan (RUED)
•    Support Dinas ESDM to verify Solar Rooftop locations in Ambon
•    Install a solar PV training laboratory, complete with a small off-grid PV array and training equipment at Universitas Pattimura
•    Collaboration with ADB and EBTKE on a refurbishment and asset transfer program
•    Support regular technical committee meetings between Dinas ESDM, PLN and Bappeda Maluku
•    Maintain good relationships with potential international funding and financing agencies, such as the KfW, AFD and World Bank 
NZMATES with PLN and BAPPENAS representatives on a site visit to Pulau Tiga.

 

Universitas Pattimura solar lab assessment.

 

NZMATES Technical Committee meeting

 

NZMATES and EBKTE consultants verifying potential solar rooftop locations.