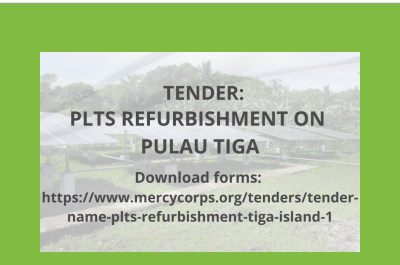 The NZMATES programme's main goal is to support the uptake of affordable, reliable and renewable energy in Maluku Province.
Acknowledging that the NZ Government Ministry of Foreign Affairs and Trade (MFAT) has signed a three-way partnership arrangement (PA) with Directorate General of New Renewable Energy and Energy Conservation, Ministry of Energy and Mineral Resources (EBTKE-ESDM) and the State Electricity Company (Persero).
To refurbish a PLN PLTS on Pulau Tiga, in order to provide an important opportunity for NZMATES and PLN to work together to develop good practices and sustainable models that can be applied to future PLTS projects in Maluku.
Open date:
 to 
Download documents: https://www.mercycorps.org/tenders/tender-name-plts-refurbishment-tiga-island-1
Tender Instruction:
1.        Kindly access the link above for complete information regarding the tender
2.        Please submit a full proposal for the tender based on availabe information, drawings, photos, and video(s) from the link above 
3.        For further inquiries please send email to tenders@mercycorps.org;
4.        Question(s) will be answered through website ( Tender Name: PLTS Refurbishment on Tiga Island | Mercy Corps)
5.        NZMATES allow field survey for the writing of the proposal (if feels necessary, but not an obligation), we would make the time. For field survey request, please send email to tenders@mercycorps.org.
6.        The tender committee will not provide financial assistance for the field survey 
7.        Direct communication through this email is not allowed, all information including field survey request will be answered through website (Tender Name: PLTS Refurbishment on Tiga Island | Mercy Corps)
Thank you, 
Tender Committee